SENSORS - The key to The Internet of Things
Companies Roll Out Gunshot Detectors at the Office
Fearing attacks, firms install sensors to track, help neutralize active shooters; systems' true purpose often masked for fear of sparking a panic (The Wall Street Journal, February 19, 2019)
Corporate executives worried about workplace shootings are quietly installing gunfire-detection systems in U.S. offices and factories. Most don't tell employees what the sensors are, for fear of alarming them.
The rapid uptick in adoption of gunshot sensors follows a wave of workplace shootings in the past year....
...At Rackspace, a cloud computing company in San Antonio, management deployed 150 gunshot-detection sensors around its cavernous office in a converted shopping mall. "You can't install metal detectors at the doors and have guards patting people down," said Mark Terry, Rackspace's director of global enterprise security. "So what's the next best thing?"
The sensors blend in to walls and the ceiling, and look similar to fire-safety equipment. "I've told people they're air-quality sensors before and they don't even second guess it," Mr. Terry said.
Originally developed for the battlefield, many sensors use a combination of acoustic and infrared technology to "see" the flash of a gunshot while also hearing it. The systems can be wired to alert police and instantly send texts, calls and desktop notifications to employees, flashing messages to tell workers how to respond in an emergency.
Once the sensors detect a gunshot on a floor, the devices can track a gunman—integrating with camera systems—as he moves through a building, in theory allowing police to zero in faster and neutralize the threat. One reason many companies don't explain to employees what the devices do is that they fear somebody will try to test them out by bringing a gun to work, security experts said.
The device can hear loud noises within a minimum of 2,500 square feet and uses infrared to detect a muzzle flash and confirm a gunshot was the source of the noise...
...Each new gunshot can be pinpointed by another device in the network...
..."In an active-shooter situation, who's calling 911?" Mr. Bridgwood asks. "I expect them to get out."...
...The Charleston, S.C., airport put gunshot sensors near ticketing and baggage-claim areas. "I'd rather be prepared and not use it than need it and not have it," said Paul Campbell Jr., chief executive of the Charleston County Aviation Authority.
The sensors cost around $1,200 each, and big employers can spend anywhere from $10,000 to hundreds of thousands of dollars on the systems....
....While building codes mandate lifesaving equipment such as fire alarms, no such regulation exists for gunshot detectors. Indoor systems are still new enough that many law-enforcement experts remain unfamiliar with them...
...The sensors can distinguish between a gunshot and a car backfiring, firecracker exploding or balloon popping because they listen for the specific signature sound of a muzzle blast, he said.
Those who have purchased the technology say it could save lives in an emergency when seconds matter. Some privacy experts wonder just how much monitoring the sensors are doing since they essentially mike the workplace 24/7. Mr. Connors says his gunshot detectors have "zero ability to transmit any audio whatsoever out of the sensor. It's impossible."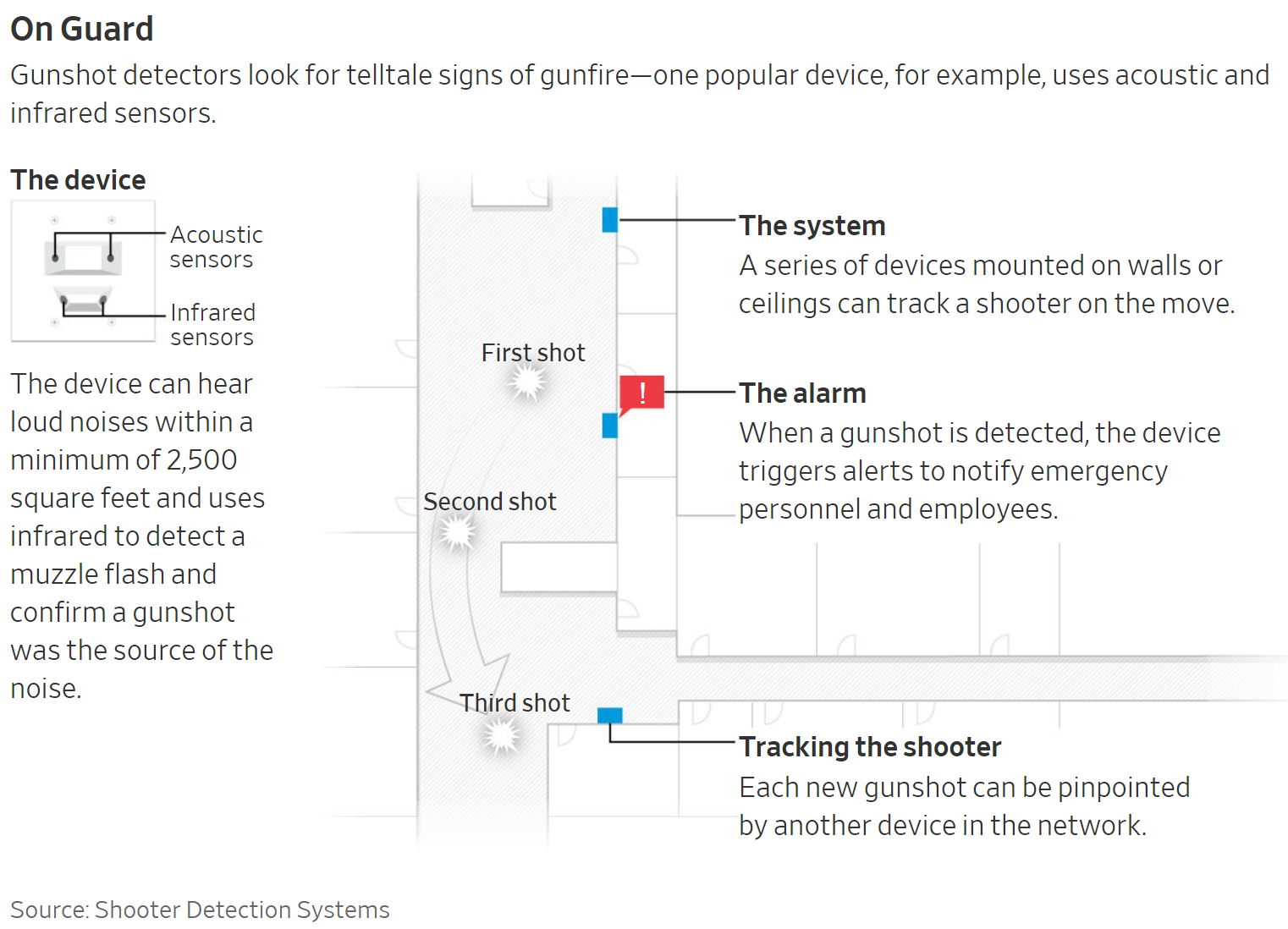 Analysis: This is an interesting article on several levels. First from a technology perspective the detection is a hybrid of both sound-based sensors and light-based sensors. Second, the tracking capability also is a hybrid of not just the acoustic and infrared sensors but camera-based systems. This can be challenging in terms of synchronization and relative accuracy levels. It also can (possibly) create issues in crime scene reconstruction and evidence-building by point to such issues.
Finally, the privacy concern expressed in the article is valid. While, yes, these sensors may not be able to record audio conversations, that is a matter of design choice, not technical limitations. There is no obstacle to doing so other than the choice of the particular vendor.
______________________________